News
New rules in force for blocking pirated Dr.Web licenses
August 1, 2017
Doctor Web has announced the introduction of new rules governing the blocking and replacement of pirated Dr.Web key files.
Anti-piracy rules updated for Dr.Web users
According to the new rules, licenses without the Dr.Web Enterprise Security Suite Control Center that have been determined to be pirated will be blocked immediately.
If the user involved is a legal person, license restoration is carried out via the corresponding ticket located in the technical support tracker. The link to that ticket will be emailed immediately after the license is blocked. That customer will need to explain how their license got compromised and what preventive measures they will take to ensure there is no repeat of the situation in the future.
As before, business users can replace their Dr.Web license three times free of charge if the license involved expires in less than 31 days. Otherwise, they must purchase a renewal license.
The rules for home users remain the same: free replacement is possible only once.
Read here about the companyís new rules for blocking and replacing pirated licenses.
Beta testing launched for Dr.Web 11.0 for UNX mail servers and Dr.Web 11.0.3 for Linux
June 6, 2017
Russian anti-virus company Doctor Web welcomes all users to participate in the beta testing of Dr.Web 11.0 for UNIX mail servers and Dr.Web Anti-virus 11.0.3 for Linux. Both products have been revamped and equipped with new features that enhance security and make them easier to administer.
New in Dr.Web for UNIX mail servers:
A brand-new architecture— now, instead of integrating with mail servers, the product interacts with them using standard mail server services (Milter, Spamd, Rspamd);
The product can now be transparently integrated with communication channels that use the standard protocols SMTP, POP3 and IMAP (this mode is only available under GNU/Linux);
Unwanted incoming email content is now stored in a separate password-protected archive instead of the quarantine;
A native control web interface has replaced Webmin;
OpenLDAP and Active Directory service information can now be used in mail filtering rules;
Product status statistics and important event notifications (e.g., regarding blocked emails) can now be sent over SNMP;
The Clamd module can now be used to scan messages on mail servers that do not use Milter/Spamd/Rspamd;
Sender/recipient address validation over DNSxL.
New in Dr.Web Anti-virus for Linux:
Email received via IMAP(S)/POP3(S) is now scanned.
Email received via SMTP(S) is now scanned.
Doctor Web invites anyone wanting to test drive the new features in Dr.Web 11.0 for UNIX Mail servers and Dr.Web Anti-virus 11.0.3 for Linux to take part in the beta testing.
Dr.Web Enterprise Security Suite 10.1 updated
June 1, 2017
Russian anti-virus company Doctor Web has updated the server software in Dr.Web Enterprise Security Suite 10.1 (201705110),.Dr.Web Enterprise Proxy (201705110), Dr.Web Enterprise Agent for Windows (11.0.1.05150) and Dr.Web Enterprise Agent for Windows supporting Active Directory (11.00.05180). The update delivers new features and resolves known issues. The documentation has been updated too.
Server software:
License key files can now be updated automatically;
In the Dr.Web Control Center, the preventive protection and agent settings can now be accessed in different sections;
Agent entries in the anti-virus network tree can now be sorted by various criteria;
Some anti-virus network tree data is now exportable;
A server performance issue, which arose if updates were being distributed between agents, has been resolved;
An error that could prevent new hosts from being approved to connect to the Dr.Web Server has been corrected;
Also eliminated was a problem resulting in an error when large files were loaded and unloaded via Dr.Web Control Center's Repository Contents and Quarantine sections;
The update also corrects an error that occurred while the number of hosts on the anti-virus network was being determined if the corresponding request had been sent via Dr.Web API—particularly when transmitting data to the Dr.Web Mobile Control Center.
Dr.Web Enterprise Proxy:
An issue that prevented an ID-less agent from installing if Dr.Web Enterprise Proxy was operating under high load;
RAM usage during the launch of the proxy server has been reduced;
Also eliminated was a defect that prevented version 6 agents from establishing a connection via the proxy server.
Agent components:
Compatibility with Windows 10 Creators Update has been introduced;
The components have been upgraded to the current version.
The updated Dr.Web Enterprise Security Suite is available through the Dr.Web Control Center web interface, where it will appear as an update dated 11.05.2017. The updated distribution files can also be downloaded from Doctor Web's site.
Dr.Web Light 10.0 for Android released
May 15, 2017
Russian anti-virus company Doctor Web has released the tenth version of its free anti-virus for Android—Dr.Web Light for Android. The application boasts a substantially improved UI and upgraded features; it also now supports Android 7.1.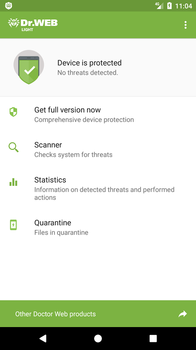 Tweaks made to the Dr.Web Light for Android interface make it even more user-friendly. Now the application uses a single event window in which all threat notifications are displayed.
Furthermore, version 10 is equipped with a new anti-virus engine and enjoys enhanced malware detection.
For better troubleshooting, the application now also collects and logs additional information.
Dr.Web Light for Android will be updated to version 10.0 automatically for users. If automatic updates are disabled on your device, you need to go to Google Play, choose Dr.Web Light on the application list, and click "Update."
Dr.Web Net filtering Service in Dr.Web Security Space 11.0, Dr.Web Anti-virus 11.0 for Windows, Dr.Web Enterprise Security Suite 10.0 and Dr.Web AV-Desk 10.0 updated
April 27, 2017
Russian anti-virus company Doctor Web has updated Dr.Web Net filtering Service (11.1.11.04270) in a number of Dr.Web products. The update delivers a fix for an identified problem.
A connectivity issue on protected computers involving certain remote banking applications and Outlook Express has been eliminated.
The update will be performed automatically; however, a system reboot will be required.
New Dr.Web brochure describes how to protect computers from encryption ransomware
April 25, 2017
Doctor Web has expanded its informational materials to include a new brochure on how to use Dr.Web Security Space to protect computers against encryption ransomware. We invite you to download the new brochure and configure your Dr.Web software correctly to reduce the risk of your files becoming corrupted by encryption ransomware.
The new brochure ďConfigure Dr.Web to protect your computer from encryption ransomwareĒ discusses how to configure your Dr.Web anti-virus in order to protect your system from becoming corrupted by a Trojan.Encoder program. After all, according to a new Doctor Web policy, free recovery of corrupted files is only available to owners of active commercial licenses if they comply with the new terms and if all the necessary Dr.Web settings were enabled at the time of the incident.
To protect computer from encryption ransomware, read our new brochure about critically important Dr.Web settings
By following our simple instructions, every Dr.Web license owner will be able to use the latest Dr.Web anti-virus technologies in the most effective way possible and keep their data from becoming corrupted by encryption malware.