News
Dr.Web Security Space for Android updated to version 11.1.0
March 27, 2017
Russian anti-virus company Doctor Web has updated Dr.Web Security Space for Android to version 11.1.0. The updated product supports Android 7.0 and 7.1, offers an improved user interface and new features that enhance protection and make the application even more user-friendly. The update also addresses known issues in the software.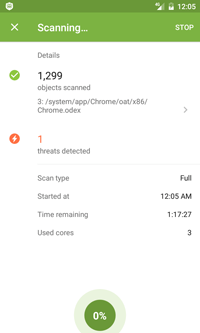 New in Dr.Web Security Space for Android:
Supported browsers now include Opera mini, Yandex.Browser, Adblock Browser, Dolphin Browser, Sputnik and UME browser;
To make license activation easier, users can specify a location for the zip archive that has been attached to the purchase confirmation email, without extracting the key file;
Users can now use the program's UI to purchase a commercial license before their trial is over;
The scanning window interface has been improved;
If the Anti-theft is used on a device that has two SIM cards, they can both be added onto the trusted list;
The Anti-theft's security has been enhanced for devices running Android 6.0 and later;
The Custom Scan interface can now be used to submit odex and so files for analysis;
Custom scanning is available for /sbin and /data directories on rooted devices.
The Security Auditor for Android 4.4 and later has had the category "Applications with the highest SMS processing priority" removed;
The application can now collect additional information for better troubleshooting;
The category "Online games" is now available so that the URL-filter can block access to such sites.
Fixes
Minor tweaks and improvements related to the product's operation in the centralised protection mode have been made.
Known firewall issues have been resolved.
Errors related to the Arabic UI have been corrected.
Also eliminated was a scanning issue on devices running Android 4.0 with root access available.
The updated application is available at Google play (Dr.Web Security Space for Android, Dr.Web Security Space for Android. Life License) and on Doctor Web's site.
The update will be downloaded and installed automatically. If you have disabled automatic updating on your device, go to Google Play, select Dr.Web Security Space or Dr.Web Security Space Life license on the application list, and click "Update".
To perform an update via Doctor Web's site, download the updated distribution. If you enable the settings option "New application version", a new version notification will be displayed whenever the virus databases have been updated. You can start the download directly from this dialogue box.
Dr.Web Security Space for Android 11.1.0 release notes
Dr.Web Enterprise Security Suite server software updated to version 10.0.1
February 16, 2017
Russian anti-virus company Doctor Web has updated the server software in Dr.Web Enterprise Security Suite to version 10.0.1 (REL-1000-201702110). The update delivers new features and resolves known issues.
The product incorporates a new Dr.Web server installer for Windows. The setup package doesn't use Windows installer and doesn't require any additional services.
Furthermore, the update addresses issues that interfered with the gathering of information about the system hardware and the applications installed on target hosts. Also resolved was an issue that could cause an error to occur when SQLite3 files were being truncated during database cleanups on machines running server editions of Windows. The size of a memory-mapped database file now can be changed via the Dr.Web Control Center.
The updated Dr.Web Enterprise Security Suite is available through the Dr.Web Control Center web interface, where it will appear as an update dated 02.11.2017. The updated distribution files can also be downloaded from Doctor Web's site.
About the dangers of using online banking applications that rely on the insecure SSLv2 protocol
February 16, 2017
Doctor Web's technical support has received multiple queries from Dr.Web software product users who simultaneously use online banking applications that utilise the insecure SSLv2 protocol. To respond to all those queries and curtail the need for our users to ask such questions in the future, we'll describe the issue in detail here in this news post.
Currently, because of multiple vulnerabilities in SSLv2, this protocol, as well as the applications that utilise it, is not secure.
Specifically, systems that use the protocol are vulnerable to MITM (man-in-the-middle) attacks as well as attacks that enable intruders to alter the course of data transfers. The MD5 caching routine of SSLv2 has also been compromised and is deprecated.
SSLv2 has been known to be insecure for quite a while. As long ago as 1996, it was superseded by SSLv3, which in turn was also found to be vulnerable (CVE-2014-3566). SSLv2 was officially rated as obsolete in 2011, in accordance with RFC 6176. Because of this, whenever a connection is established via SSLv2, Dr.Web notifies users about the danger.
Dr.Web user support requests clearly indicate that some online banking applications are still using the insecure SSLv2. Customer care staff of the banks involved have even recommended to users of ours, who have experienced problems with their applications because of Dr.Web, that they uninstall the anti-virus—something that would severely endanger the funds of their own customers.
Doctor Web recommends that insecure applications be updated. If no updates are available, users can continue using them by going into the Dr.Web settings and enabling the use of an insecure protocol.
If you choose to use an online banking application, ask the bank whether it uses a secure connection, and if it utilises SSLv2 or SSLv3, reject the use of the application.
Currently, the recommended protocols include TLS v.1 and later.
Dr.Web for Kerio Mail Servers updated to version 6.0.6
January 31, 2017
Russian anti-virus company Doctor Web has updated its Dr.Web for Kerio Mail Servers plugin to version 6.0.6. The update delivers a fix for an identified problem.
Specifically, it eliminates an issue that interfered with the plugin's installation on machines running 64-bit editions of Windows.
The license agreement has been updated too.
To update Dr.Web for Kerio, you need to download an updated installation package and reinstall the plugin, after removing the installed version.
Detailed information about system requirements and installation can be found in the release notes.
Dr.Web Security Space 11.0 for Android released
December 14, 2016
Russian anti-virus company Doctor Web has released the new version of Dr.Web Security Space for Android. The revamped interface, Android 6.0 support, and numerous upgrades designed to make smartphones, tablets, game consoles and smart TVs more secure are now available to the millions of people who use one of the worldís most popular anti-viruses for Android.
The release of Dr.Web Security Space 11.0 provides support for Android 6.0 and full support for Android TV.
Malicious sites are one of the most commonly used resources for spreading Trojans. That's why, in the new version, Dr.Webís developers enhanced the URL filter that blocks access to malicious sites. The program is now also compatible with Mozilla Firefox and Opera.
The Anti-theft component, which is quite popular with Dr.Web users, received upgrades, too: in Dr.Web Security Space 11 for Android, it can be unlocked with a fingerprint scanner for mobile devices that feature the scanner and run Android 6.0 and later.
Dr.Web for Android TV has been redesigned, too. It now incorporates a new componentóthe firewall. It will protect devices from unauthorised access, prevent data leaks over a network, control all Internet connections and data transfers, and block suspicious connections and potentially dangerous network activity, e.g., web camera data feeds.
The firewall for smart phones and tablets has also been upgraded. The firewall log can now be used to view all the website addresses the mobile device has attempted to access. The component will also block the download of malicious files over HTTP that attempt to take advantage of a widespread vulnerability known as Stagefright, which has yet to be closed on millions of Android devices.
All Dr.Web security incident notifications are now displayed in a single window so that users can assess the overall security situation and respond to new events in a timely manner.
The Dr.Web Security Auditor is now even better at discovering vulnerabilities.
Furthermore, the application incorporates a number of tweaks including some that improve how Dr.Web for Android operates on rooted devices.
Dr.Web Security Space for Android is available free of charge to Dr.Web Security Space and Dr.Web Anti-virus license owners. The new version of Dr.Web for Android is also available as part of Dr.Web Mobile Security Suite (for business) and Dr.Web anti-virus service (Dr.Web Premium and Dr.Web Mobile subscription packages).
Dr.Web Security Space ??? Android

2010

First version of Dr.Web for Android released

2015

The world's first anti-virus for Android smart TVs
Over 100 million downloads from Google Play alone!
Dr.Web 11.0 plugin released for Microsoft ISA Server and Forefront TMG
December 1, 2016
Russian anti-virus company Doctor Web has released version 11 of its Dr.Web plugin for Microsoft ISA Server and Forefront TMG. The new version utilises architecture that was implemented in Dr.Web 11.0 for MS Exchange. The plugin boasts better stability.
The plugin is designed to protect a corporate IT infrastructure from malware and spam. It detects and removes all types of malicious software in data streams passing through Microsoft ISA Server and Forefront TMG via HTTP, FTP, SMTP and POP3.
The new plugin version includes the following features:
An upgraded FTP traffic-scanning routine;
HTTPS support for Office Control;
An expanded list of site categories for Office Control;
Different scanner settings options for dealing with curable and incurable objects have been joined together in the single option: "For infected objects";
The administrator console now supports French;
Additional options are available when selecting the type of object that has been discovered to have damage;
The administrator console now warns users that settings have not been saved when they attempt to move to another settings section;
The option now exists to apply email filtering rules to both sender and recipient addresses;
Different access permissions can now be granted for the application's web interfaces.
More information about the aforementioned innovations, as well as system requirements and detailed installation instructions, are available in the release notes.